The Green, white, and orange perfectly capture the look of the Irish flag and are great for a themed party.
►1/2 ounce green Crème de Menthe
►1/2 ounce Irish cream liqueur
►1/2 ounce orange liqueur (Grand Marnier)
1. Gather the ingredients.Also get your shot glass, pourer and cocktail spoon.
2. Pour green creme de menthe 1/3 of the way up the glass.
3. Place the spoon bowl side up in and against the side of the glass and slowly pour a half ounce of Baileys Irish cream over the bowl and into the glass (another 1/3 of the way up the glass.4. Place the spoon in the glass again and pour the Grand Marnier slowly over the bowl of the spoon.
Enjoyed the recipe? Share it with friends!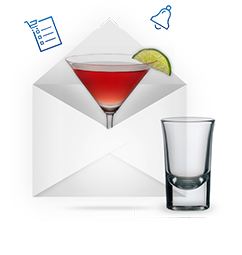 The recipe in your inbox
Get a printable version of this recipe with shopping list straight to your inbox with a weekly selection of popular cocktails Become a pro-bartender one recipe at a time.
No Spam e-mails, We promise.